Diamond Insurance Claims & Appraisals
As your comprehensive in-house diamond department, K Rosengart is dedicated to providing you with the best end to end service in the industry. From ensuring you have the inventory you need to create stunning jewelry and realizing CAD designs to setting pieces and shipping your orders expeditiously, we have you covered. To serve you to the fullest extent possible, we also offer expertise in diamond appraisals and diamond insurance claims.
For your customers, jewelry is often priceless — sentiment renders an engagement ring, diamond pendant, or anniversary band valuable beyond a number. On a financial level, though, it is vital to attach a realistic and accurate price to your inventory for insurance purposes.
K Rosengart's team is fully experienced in valuation methods. As GIA-trained experts, we understand factors that influence the appraisal, such as weight, grade, measurement, and evidence of any treatments the stone may have undergone (ideally, diamonds are untreated).
We will provide you with a detailed written description of our findings. Should you ever need to file an insurance claim, this document becomes invaluable. We are happy to appraise your pieces and/or those of your customers. As always, our rates are competitive and our service is industry-leading.
Request FREE Price Consultation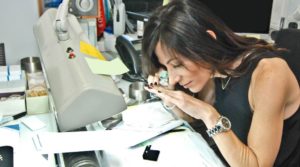 Insurance enables you to protect your investments and your business; in the event of a loss (e.g. damage, theft, etc.), an appraisal provides you with the documentation you need to file a claim. Insurance can help you recover from your loss, ensuring your business does not miss a step in serving its customers.
Choosing an insurance policy can be challenging as you have to consider a variety of factors, such as actual cash value, agreed value, and replacement value. Filing a claim can be just as complex. K Rosengart is a diamond industry veteran; our team will guide you through the ins and outs of the process and answer any diamond insurance claims questions you have.
We have you covered.
K Rosengart is one of the most trusted names in the business. When you require assistance with diamond appraisals and insurance claims, contact your trusted diamond department.
Order Diamonds Wholesale for your jewelry needs.