When you are in the jewelry business, your reputation rises and falls on integrity.
Do the products you offer meet, and exceed, customer expectations? You are selling a promise — of quality, of beauty, of timelessness, of value — and it is a promise on which you must deliver. To do this, you must source the finest materials: our diamond sorting services ensure that you receive the highest quality loose and melee diamonds in the industry.
K. Rosengart features the most precise loose diamond sorting processes in the industry. Our experts follow GIA's strict standards when it comes to purity and color – the "gold standard" in the diamond world. As with diamond cutting, there is a great deal of science and art to sorting; while automated systems help streamlined the process, the mastery and skill of our in-house team assures optimal results.
Request FREE Price Consultation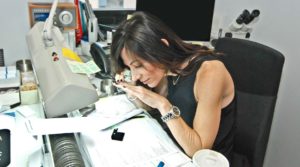 We know that the pieces you make must speak to your customers; to ensure they do, speak to us first. We're listening; K Rosengart gives each client personalized attention, gaining in-depth understanding of your unique needs. As a result, every order of sorted diamonds you receive meets your specifications, down to the very last melee stone. Without rejection, you streamline your own processes and deliver on your customer promises without undue delay.
To maximize convenience, we bag your diamonds according to your needs. Simply send a CAD design, and we will fill your order expeditiously. If received by 3:00 pm (EST), we will ship it the same day for next day delivery. If you opt for 2nd day shipping, your order ships free of charge. Our goal is to provide not only exceptional gemstones, but service that is unrivaled in the industry.